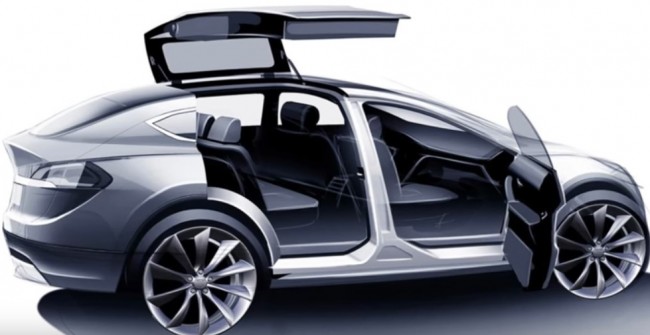 This is an artist's render of what the upcoming Model Y might look like. The Tesla Model Y is the upcoming crossover version of the highly-anticipated Model 3. Reports expect the vehicle to roll out in 2020 but it could come sooner.

(Photo : AutoTimes/YouTube)

The Tesla Model Y is the upcoming crossover version of the highly-anticipated Model 3. Reports expect the vehicle to roll out in 2020 but it could come sooner.

According to a report by Electrek, the electric vehicle manufacturer has yet to give an official Model Y timeline. Below is a list of all of the features that will likely come with the upcoming electric crossover SUV.

1. Falcon-Wing Doors. Back in October 2015, Elon Musk posted a tweet suggesting that the SUV could have falcon-wing doors. Apparently, one of his Twitter followers asked if the Model 3 or its crossover counterpart would have falcon-wing doors. Musk responded that "one of the two will." His tweet has since been deleted, but it is noteworthy to mention that the Model 3 prototype did not have falcon-wing doors.

2. Solar Roof. Last November, Musk once again took to Twitter to relay that Tesla might begin to include solar roofs as an option for its cars soon. While the CEO did not share a specific timeline, he did mention that it "would probably be an option" for the Model 3. In addition, he also stated that it would not be too expensive. Given that a solar-roof option could be available for the Model 3, it's very likely that it could also be optional or standard for the Model Y.

3. Fully-Autonomous Driving Mode. This feature is sure to happen. Currently, the Silicon Valley company is already well-known for its semi-autonomous Autopilot system. In another tweet, Musk said that his company could achieve full self-driving by the end of the year!

According to another report by Business Insider stated that the Model S and Model X models produced after October, including the Model 3, will all be equipped with fully self-driving hardware. The new hardware will cost an additional $8,000 at the time of purchase and will include all of the Enhanced Autopilot features.

However, there is no mention when this will actually happen. Hopefully, it will happen when the Model Y comes out.

4. 238 Mile Range Per Charge. While no official details have been released for the Tesla Model Y, the Chevrolet Bolt SUV just launched. It has a range of 238 miles per charge and it is likely that the Model Y will have an equally competitive range. For comparison, the Tesla Model 3 will have a 215-mile base range per charge.

5. More Cargo Space. The current Model X has spacious seating but tight cargo space. In November of last year, the Silicon Valley company offered a configuration option that gave the Model X more interior cargo storage. Musk already stated that the Model 3 will not have any cargo utility problems and considering that the Model Y is the sister vehicle, it will also likely get more cargo space.

6. Heads-Up Display. A heads-up display aims to show the driver all vital data directly on the windshield in front of him. Speculations have been rampant that the Model 3 may have this feature. If this is true, then the display would likely be carried over to the Tesla Model Y as well.

7. Affordable Price. The upcoming crossover electric SUV will also have an affordable price. One of the top selling points of the Model 3 is its affordability. It will have a base price of $35,000. Considering that the all-electric Chevy Bolt SUV has a price tag of $37,500, the Model Y could also be in the same ballpark. Tesla could even make it cheaper than the Model X which begins at about $40,000.

The Tesla Model Y will hopefully get an official announcement soon. Which of these features do you think will come with the Model Y? Share your thoughts and comments below.

See Now: OnePlus 6: How Different Will It Be From OnePlus 5?

© 2020 Auto World News, All rights reserved. Do not reproduce without permission.