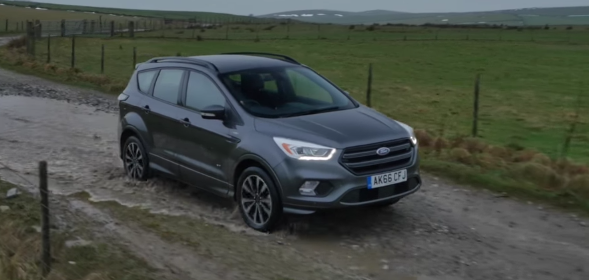 Meet Ford's new SUV, the 2017 Ford Kuga which is considered a vast improvement from its last version back in 2008.
(Photo : Driver's Seat/Youtube)
The 2017 Ford Kuga is back to redeem its disappointing reviews when it was first released in 2008. Industry experts back then did not have nice words to describe the Kuga so the 2017 edition is set to give it a fresh start. Will industry experts and car enthusiasts have new insights on the latest Kuga? Will it be considerably better than its close rival, the Mazda CX-5?
According to Auto Express UK, the changes in 2017 Ford Kuga is not considered groundbreaking but it gives the SUV a welcome boost. It is considerably better to drive and comes with spacious interior giving its passengers the much-needed comfort especially on long drives. However, it is still a little disappointing because of its smaller trunk.
The 2017 Ford Kuga's facelift spells a big difference. The 2017 Kuga still gets the similar front grille and restyled its front and rear lights with a reshaped tailgate. Even with its fresh take on design, it is still not as sporty and youthful compared to its competitors like the Mazda CX-5. At least, it is made more modern and updated because it comes with the latest SYNC 3 setup infotainment system.
#FordKuga woes are not over as company recalls another #Kuga model https://t.co/OoZAfWINvc #Ford pic.twitter.com/ciNHMj4nHF

— Kempton Express (@KemptonExpress) March 6, 2017
There is plenty of space for rear seat passengers. However, the passenger space compromised the cargo space. This is even disappointing considering that the 2017 Ford Kuga is relatively longer. Passenger comfort is of the essence, however, Ford was not able to balance out cargo and passenger space ratio. Its competitors have larger trunk space for a shorter length. In this aspect, the Mazda CX-5 is better by a mile.

As added by What Car, the 2017 Ford Kuga will also appeal to those who regularly tow because it has a towing limit of 2100kg which is more compared to the 1800kg limit of the front-drive models. It is also better in terms of handling as it gets sports suspension which enables the SUV to handle and navigate tough and sharp curves. However, the suspension is not designed for off-roading.

Even with these, the 2017 Ford Kuga faces its toughest time as it was recalled for spontaneously bursting into flames. As per Fortune, it has recalled 4,500 Kuga SUVs sold in South Africa after numerous reports of a vehicle catching fire. Earlier investigations revealed that fires in the 1.6 Kuga model imported in Spain are caused by overheating due to lack of coolant circulation which could lead to a crack in the cylinder head and oil leaks.

Several reports, however, say that the 2017 Ford Kuga is off to a strong start in spite of the recall. No matter what happens, the recall is never good for business and can set Ford back to a considerable amount of revenue. The Ford Kuga did not have good reviews, and unfortunately, the 2017 edition may not entirely redeem it.

The 2017 Ford Kuga is no match to one of its tough competitions, the Mazda CX-5. It may have had a strong start but the recall derailed it, no questions asked. Ford definitely has serious action plans to this scandal, however, the damage has already been done which may make it extra challenging to be competitive in the market again. Watch the video below to see more of the recall details.

See Now: OnePlus 6: How Different Will It Be From OnePlus 5?

© 2021 Auto World News, All rights reserved. Do not reproduce without permission.