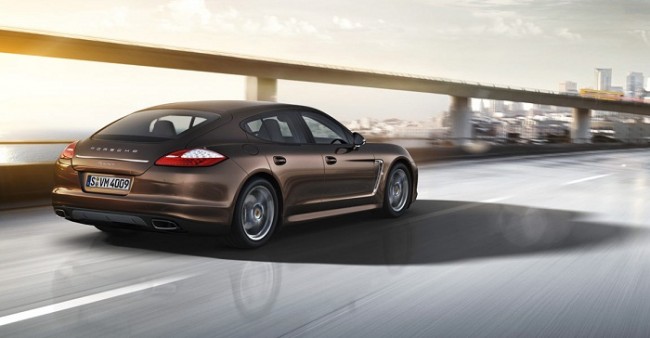 While fans of the popular Porsche Panamera series will have to wait a little while for the second series, the German automaker has announced they will be releasing two special Platinum Editions to tie fans over for now.
Porsche will release a standard Panamera Platinum Edition and a Panamera 4 as well.
The biggest changes made to the special edition would be the size and comfort of the car compared to previous models according to Porsche. The car will be able to fit four people inside, while still having a sport car feel to it. Another key element to the car this time around is the 19-inch Turbo alloy wheels that include the Porsche logo right smack in the middle of the rims.
The car will feature the same engine set up as the regular Panamera series, which includes a 3.6 liter, 6 cylinder front engine, with rear wheel drive. The fuel economy is rated at 27 mpg and the car can reach top speed of 160 mph according to Porsche.
The interior is also updated, mainly for space, and will contain some familiar features from popular models of the past. Each car comes equipped with a SportDesign steering wheel, a built-in navigation system and it is standard to get the high-resolution 7-inch touchscreen display system according to Porsche. Eleven loudspeakers are placed throughout the car, to make your driving experience that much more enjoyable.
The special edition vehicle will be on sale at the end of Nov. for around $80,500. The Panamera 4 will be sold for a little under $85,000.
Click "Start" to begin the slideshow.
See Now: OnePlus 6: How Different Will It Be From OnePlus 5?
© 2021 Auto World News, All rights reserved. Do not reproduce without permission.