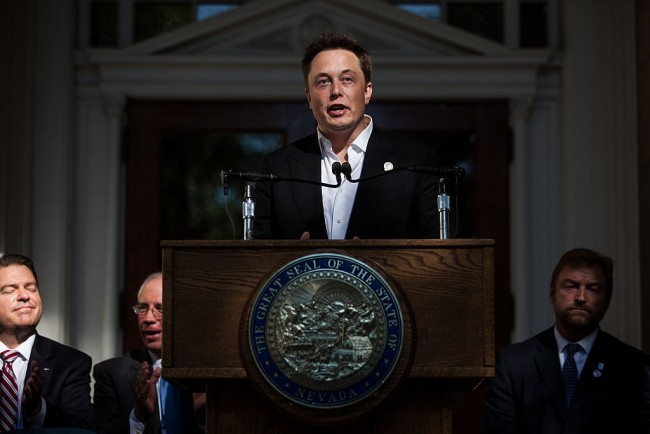 CARSON CITY, NEVADA- SEPTEMBER 4: Elon Musk, CEO of Tesla Motors, speaks at a press conference at the Nevada State Capitol, September 4, 2014 in Carson City, Nevada. Musk and Sandoval announced a plan to build a Tesla Gigafactory in Nevada to produce batteries for electric vehicles providing 6,500 jobs to the state.
(Photo : Photo by Max Whittaker/Getty Images)

The demand for electric vehicles continues to skyrocket. As a result, car companies and tech titans are finding ways to produce their own version of these car models. Tesla, on the other hand, might feel the need to expedite the Tesla Model Y in order to catch up with the competition.

Several websites, and maybe business analysts, are contemplating about the automaker's upcoming SUV. These outlets think that Tesla should bring the Model Y into the market first before the Model 3.

Autodata Firm, via Business Insider, revealed that the sales of the sports utility vehicle went up to 2 percent in August. Meanwhile, the sales of passenger cars dropped to 12 percent.

According to the study, people are choosing SUVs over the usual 4 seater-car because they find it more profitable. But isn't that Tesla already launched the Model X SUV?

Yes, they did. But the problem is, the latest model is priced at around $100,000, which most of the public household could not easily be earned.

However, Tesla found another way to provide the demand of the people. They will introduce the Tesla Model Y, but we need to wait for the Model 3 to come up on or before 2018.

If that is the case, the company's rivals could take advantage of the delay. That is why CEO Elon Musk confirmed that the much-awaited electric vehicle will be out as soon as the Model 3 is available by the second half of 2017.

Yet, Business Insider noted that there is still a tight competition against General Motors, Hyundai, Audi, and Volvo. According to the website, these car companies are also planning to reveal their own version of the SUV mass-priced electric vehicle by the time that Telsa released the Model Y.

Since Tesla has been the leading brand when it comes to selling electric cars, this might be a good reason for the firm to expedite the launch of the Tesla Model Y. Perhaps, it would make it again at the top and could bring them more profit.

See Now: OnePlus 6: How Different Will It Be From OnePlus 5?

© 2021 Auto World News, All rights reserved. Do not reproduce without permission.