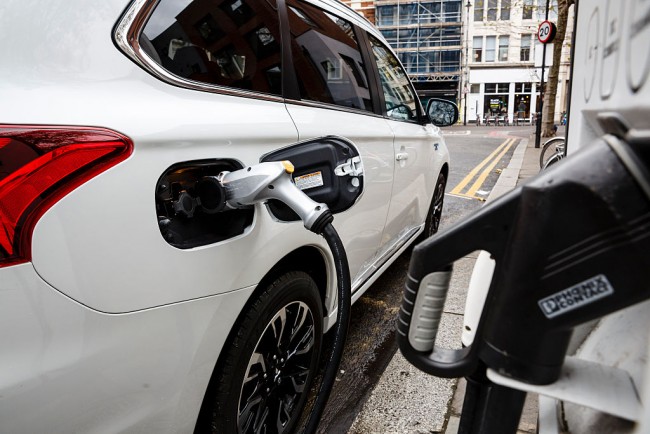 Here are the 5 of the Best and Affordable Electric cars this generation has nowadays.
(Photo : Miles Willis / Stringer)
It is a distinct fact that there has recently been a massive increase in the numbers of EV (electric car) manufacturers. Due to rapid change in the world economy and environmental aspects, EVs appear to be a good choice for man's losing supply of commodities such as petrol, gasoline and others.
As EV manufacturers produce cars, they are not just always for the quantity but also for quality. This is the reason why the EV world has lots of new model and brand launches and release from here and then. This is also the reason why some have recently been opening businesses like EV charging stations. Indeed, rising numbers of EVs being manufactured is a potential market with high possibility of giving birth to new business ideas and ventures.
In high competition with each other, EV cars now come into the market with the best designs, sizes, advantages, cheaper prices and many more. Here are five of today's best EVs.
BMW i3
Released in 2014, the BMW i3 EV appears to be one of the best made premium cars that are available on the market. The BMW i3 comes in in two variants. Readily, both variants are powertrain types. First of the two is the i3 with pure electric drivetrain is outfitted with a 170bhp electric motor attached to a 33kWh battery pack. This can go 195 miles per full single charge.
The other choice is the i3 range extender. This i3 range extender has a similar battery pack and electric motor as that of the first i3. The only difference is it has a 32bhp petrol engine. The engine is not the thing that makes the car move but instead it adds up to the life of the battery powers to reach 276 miles for maximum range. A report tagged BMW i3 as the "Apple iPhone of the car world." The price of the two are £27,830 and £30,980 respectively.
Nissan Leaf
Considered as one of the bestselling EVs ever made with more than 200,000 units sold globally since 2010, the Nissan Leaf has always been impressive. Its manufacturing company had applied a lot of new concepts. The addition includes a 30kWh battery pack that can go as far as 155 miles in a single charge. The Nissan Leaf is small in size and a best pick for those who shy away from bulky and gigantic cars. Its price starts at £21,530.
Kia Soul EV
This boxy road buddy is good for city driving. Some critics are saying that the Kia Soul EV is mostly seen off the streets as petrol or even diesel-powered. Even so, the Kia Soul EV tops the range with its 27kWh battery installed, attached to an electric motor, it can go further to 130 miles on a single full charge, with a top speed of 90mph. The Kia Soul EV is a fast one, isn't it? It is available at a price high of £25,495.
Chevy Bolt EV
This EV is a muscle car and an electric car in one. Ranging the road with its 200-hp electric motor mated with a battery pack on its flat, an EPA-range of 238 miles can be an output. The Chevy Bolt EV has high technology inside and has a 10.2-inch touchscreen and also an 8-inch smaller digital gauge cluster. It has onboard Wi-Fi, 4G LTE, Apple Carplay and Android Auto compatibility. The Chevy Bolt EV will see the world at the conclusion of this year. The Chevy Bolt EV is available at a great price of £37,500.
Tesla Model S
Famous with its "bioweapon defence mode" that comes in with an optional HEPA air filtration system, the Tesla Model S is really ringing a bell for being today's best EV. Inside the Tesla Model S is a gigantic 17-inch touchscreen installed at the center of the middle console and control. This is not to forget that Tesla Model S has an autopilot system and software which makes it to be a more expensive choice for EV enthusiasts.

The Tesla Model S, as royalty among EVs, also has a secondary screen behind the steering wheel, for a digitised instrument cluster rich with information. Onboard Wi-Fi, keyless entry, reverse cameras and parking sensors are also included in the car. With all of these outstanding features, it can go as far as 248 miles on a single charge, and is able to go from 0 to 62mph in just 5.5 seconds. All of these capabilities are possible with the use of a 75kWh battery package. Unsurprisingly, the Tesla Model S is at £53,400 for purchase.

Oozing with so many great things about these EVs, it is really hard to tell which of which the best is or the top among these mentioned. The car world is surely opting for so many impressive models and brands to come out in the future.

See Now: OnePlus 6: How Different Will It Be From OnePlus 5?

© 2020 Auto World News, All rights reserved. Do not reproduce without permission.