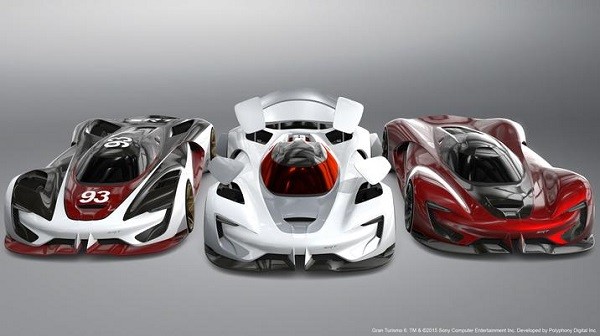 Fiat Chrysler Automobiles unveiled more teasers for its latest concept car this week, the SRT Tomahawk Vision Gran Turismo.
The Tomahawk Vision is expected to launch in "Grand Turismo 6" this summer for the PlayStation 3, but you can catch a glimpse of it here before it hits the virtual track.
"I'm truly happy that FCA and its performance division, SRT, have captured the spirit of the Vision Gran Turismo with the SRT Tomahawk Vision Gran Turismo," said "Gran Turismo" creator and president of Polyphony Digital, Inc., Kazunori Yamauchi, in a press statement. "FCA designers took part in a design competition and the concept that was chosen is extreme in every way with its striking form, aerodynamic proportions, internal mechanisms and advanced driver's suit.
Some of the specs we've confirmed so far include a five-pipe exhaust, hybrid powertrain and a V-10 powertrain that boasts up to 2,590 hp.
For now the ride is just a concept though FCA thinks the Tomahawk could reach production by 2035.
If you can't wait to drive the new concept in "Gran Turismo 6" this summer or possibly buy the car in 20 years, check out our slideshow to tide yourself over.
See Now: OnePlus 6: How Different Will It Be From OnePlus 5?
© 2021 Auto World News, All rights reserved. Do not reproduce without permission.