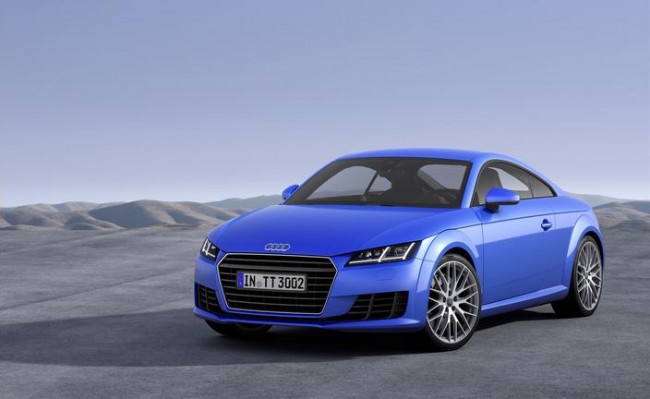 The 2016 Audi TT Roadster and TTS Coupe are set to make their U.S. debut at the 2014 Los Angeles Auto Show this week, representing the automaker's brand-new TT model line.
What is it?
The TT and TTS will reach the US next fall as 2016 model year options, and will be available with Audi's proprietary Quattro all-wheel drive tech as a standard feature.
Audi believes the all-new Audi TT will once again make its stamp on Audi history thanks to an exciting new design characterized by the use of driver-focused performance and innovative design.
What's changed?
Power for the new vehicles will come from a 2.0L TFSI engine that makes 220 hp and 258 lb-ft of torque. The sporty Audi TTS Coupe will feature a turbo 2.0L TFSI engine with 292 hp and 280 lb-ft of torque.
The TT will only be available as coupe and roadster options and the TTS is only available as a coupe. The TT models are available with six-speed dual clutch S tronic transmission that provides quick and smooth shifts, according to the automaker.
Other features include magnetic ride suspension, and the option to select different driver modes.
What's new?
Interior features include a digital instrument cluster with a 12.3-inch display behind the steering wheel. Occupants can give voice commands to the vehicle's infotainment system, or use of the Audi TT's MMI touchpad.
Audi's Connect Internet support allows users to access social media sites like Facebook and Twitter, over 7,000 Internet radio stations and more.
Pricing and additional specifications will be revealed closer to on sale date.
Auto World News is in Los Angeles covering the auto show. Check back throughout the week for updates on the latest debuts and concept cars.
See Now: OnePlus 6: How Different Will It Be From OnePlus 5?
© 2021 Auto World News, All rights reserved. Do not reproduce without permission.