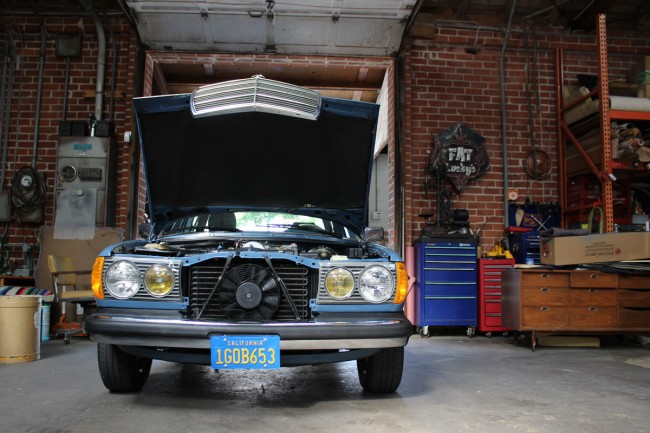 Inside an unpresuming storefront tucked away in the industrial area of the sleepy city of Glendale, Calif., J.G. Francis is poking his head inside a rare, Euro-spec, Thistle Green W123 sedan and breathing deeply as if reveling in a hit of nitrous oxide. "I love the smell of velour," he said. "It's the ultimate German smell."
The business he leads, Mercedes Motoring, has one goal: to rekindle enthusiasts' love for classic Mercedes-Benz models all over again by experiencing the products with all five senses.
Few shops are capable of such an undertaking. With a small staff headed by Francis and based near Los Angeles, a crack team of mechanics and enthusiasts are fulfilling that mission. His right hand is master Mercedes-Benz scout Becki Chernoff, who is in part responsible for selecting candidates for rehabilitation. Their goal: To find desirable Mercedes-Benz models—mostly from the 1970s and 1980s, although not limited to that era—worthy of being both collectible and driven daily.
Not far from Glendale is the corporate-sponsored Mercedes-Benz Classic Center, which completes full-on restoration jobs designed to make the models better than new. Francis is entirely satisfied with his target to restore and sell "super-safe, ultra-reliable, fuel-efficient [cars] that probably aren't going to depreciate at all."
Before a vehicle can be selected for rehab, it must undergo a rigorous fitness test. By Mercedes Motoring standards, that means original paint; intact anodized aluminum brightwork; interior upholstery in upstanding condition; and door panels that lack waviness. Pristine dashboards, in particular, are important to Francis, because they can be hard to source and are no longer in production.
New arrivals at the shop are first privy to a detox, in which Francis' team strips the body, removes the chrome brightwork, and disassembles nearly the entire car—except for the drivetrain. That means detaching moldings, bumpers, lights, seats, door panels, wood trim, and any component nonessential for driving.
"Piece by piece, we just polish and shine the entire car," Francis said. He estimates that the full cleaning process takes about five weeks to complete. Although Mercedes Motoring's mantra is to preserve the original feeling of the older model, Francis does concede to some modern customer requests, such as the addition of cupholders or an auxiliary jack.
Once a vehicle is complete, the shop's staff provides new owners with a brief walkaround and then sends them on their way. Unlike modern Benzes, these older models—particularly the diesels, Francis said—require that their owners drive them hard.
"If you don't put a lot of miles on it, it's going to appreciate," Francis said. "It's like a savings account."
Some of the shop's most desirable cars stay within the Mercedes Motoring family, and return to be sent off to new homes. Francis traveled to Alaska to buy a Mercedes-Benz and sell it to a customer who traded it for a coupe. Once he returned the car to the shop, the sedan found a new home in San Francisco before coming back to L.A. for a trade-in. He does little business on consignment, and prefers to hunt for the most attractive vehicles to restore and resell—like tracking down a W115 wagon built only in Argentina.
Francis' own car is a "triple-green" 1973 280C, which Francis said is among the rarest of the vehicles to enter his shop. He's unwilling to part with it.
"Anyone with the money can go out and buy a Ferrari today. But if you want a '73 coupe in factory green with 100 percent original paint, that's never been restored, has low miles and looks like that, you can count on one hand how many there are in the United States," Francis said. "To me, that's more special than the restoration side of it."
To us, it feels, sounds, and smells like a winning proposition.
See Now: OnePlus 6: How Different Will It Be From OnePlus 5?
© 2021 Auto World News, All rights reserved. Do not reproduce without permission.